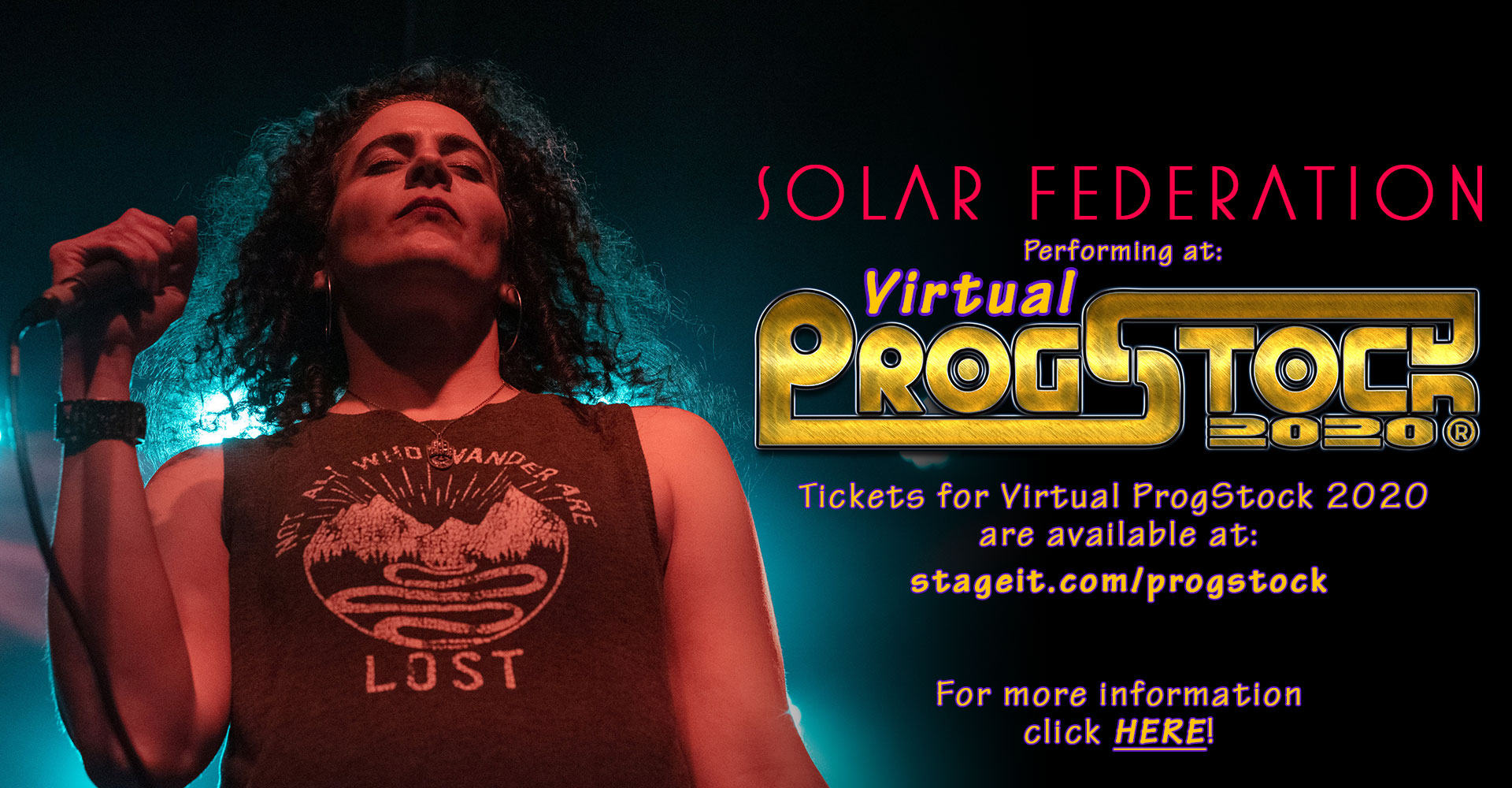 Solar Federation @ ProgStock 2020

| | |
| --- | --- |
| | 10/11/2020 |
| | 1:00 PM |
| | Lancaster |
| | Tellus360 |
Solar Federation performs at ProgStock 2020:
Sunday, October 11:
1:00PM: Solar Federation – A Rush Tribute
4:30PM: Cell15
8:00PM: Crack The Sky
The individual performances on StageIt are separate shows. Audience members will purchase a ticket to each performance individually, not the whole night as a block.
Tickets are $10 per show and can be purchased here:
Since ProgStock's live-streamed events will only provide a virtual audience for venues, they are also holding a fundraiser to help support UCPAC and Tellus360 through this crisis. The funds raised here will help offset the costs of operating the venues for our livestream events and will be matched with in-kind support for the events by our friends at these venues.
Donate $100 and get one ticket to the show of your choice on October 10 or 11 (a $10 value).
Donate $250 and get tickets to three shows (an entire day or any three shows you choose, a $30 value).
Donate $400 and get tickets to all six shows (the entire weekend, a $60 value) and our eternal and unconditional love (priceless).
Donations are being processed by Fractured Atlas on behalf of ProgStock Festival. ProgStock is a sponsored project of Fractured Atlas, a non-profit arts service organization. Contributions for the charitable purposes of ProgStock must be made payable to Fractured Atlas only. The value of each ticket received is $10. Any contribution above that amount is tax-deductible to the extent permitted by law.
Please help ProgStock support it's home venue, UCPAC, and new partner venue, Tellus360, so they can survive this crisis and return to staging live events when such things are allowed again!
Pricing: Virtual ProgStock 2020 shows will have a minimum ticket price of $10.00 (100 Notes), with prices in US Dollars. You can pay more, if you have the means, and you will also be able to tip during the show with your StageIt Notes. Tips show up on the screen as colored bars and many artists view them as the alternative to applause! We encourage you to support the artists at this difficult time.
StageIt is all about experiencing music in the moment, duplicating the live music experience as closely as possible. You have to be there to see it, just like you would in a venue, so shows are only available on their site during the performance window.
Details for StageIt:
Shows will be presented on StageIt. To participate, you must have a StageIt account. If you don't yet have an account, here's what to do:
1. Go to
stageit.com
(on a laptop or desktop, the site is not mobile-friendly for opening accounts, purchasing Notes/tickets, but works on mobile for viewing)
2. Click Sign Up (upper right corner)
3. Create a username and password
4. Click "Buy Notes" (10 notes = $1) – The StageIt system sells Notes in minimum intervals of $5 (50 Notes).
5. After choosing how many Notes you want to purchase, choose your payment type – it'll be credit card or PayPal (with PayPal, you do not need to have an account, you can use a credit/debit card as a guest).
6. Go to the direct ticket link for ProgStock Presents and purchase tickets to the shows you want to watch.
7. You will also be able to tip the artists before, during and after the shows with Notes. Consider loading up your account now, so you can have some fun with tipping while supporting your favorite artists.
ProgStock would like  to thank Ed Unitsky for our beautiful artwork, Austin Kokel for providing us with awesome radio spots and Marty Dorfman and Rob Rutz of The Waiting Room with The Prog Doctor on The House of Prog, Rick Henry, Mary Pat Henry, Steve Swayne of House of Prog Radio, Phil Merkel of Captain Phil's Planet on WUSB, Tom Gagliardi of Gagliarchives Radio Philadelphia, Mark Monforti of Progrock.com, Alan Baillargeon of NewEARS Prog Show, Alex Cruzeta of Deep Nuggets Radio, Rick Dashiell of Delicious Agony Progressive Rock Radio, Peter Jones and Cliff "Progzilla" Pearson of Progzilla Radio, Nick Katona and Melodic Revolution Records and Melodic Revolution Radio and the fabulous Anne Leighton for your continued support and promotion of ProgStock Festival! THANK YOU!